A Special Spring Membership Concert on Friday, April 21, 2023!
Members are the life-blood of A Place for Jazz. Ever since its founding by the late Bernard "Butch" Conn in 1987, APFJ has strived to bring world-class jazz to its members and greater audience, while at the same time keeping ticket prices very low. We have been able to do so, with the current ticket price being a modest $20. In fact, we have had only one ticket price increase over the last several decades. Our ability to do so is in no small part thanks to the generosity of our members. This, tied to the fact that we are a completely volunteer based organization with no paid staff, allows us to budget wisely. Raising membership dollars allows us to plan our budget accordingly, and to cover our ever-increasing costs.
To honor our members, and to help the organization with its budgeting, A Place for Jazz will present a Special Spring Membership Concert on Friday, April 21, 7:30 PM, at our new home at the Schenectady County Community College. To thank you for your generous support, we have a special offer: By April 14, purchase a membership at the $100 level or higher and you can attend the spring concert for free!
The music that evening will be our very own President Emeritus Tim Coakley leading The Skip Parsons Memorial Riverboat Jazz Band. Skip Parsons, who unfortunately passed away last April, was a larger-than-life presence on the jazz scene in the Capital District and beyond for more than 60 years. Tim anchored the band for decades on the drums, and will be joined by Richard Downs (trumpet), Ken Olsen (trombone), Ron Joseph (clarinet), Crick Diefendorf (banjo/guitar), and Pete Toigo (bass), all of whom played with Skip and The Riverboat Jazz Band for many years. It will be a way to keep the spirit and memory of Skip Parsons alive and will be a treat for all who attend.
Please take a moment to complete our membership form at your earliest opportunity. You can now pay online! Thank you very much for your consideration.
Click here to enjoy the Peg Delaney Big Band concert again
(or for your first time, if you missed it on Nov 4, 2022).
How to get to the concerts: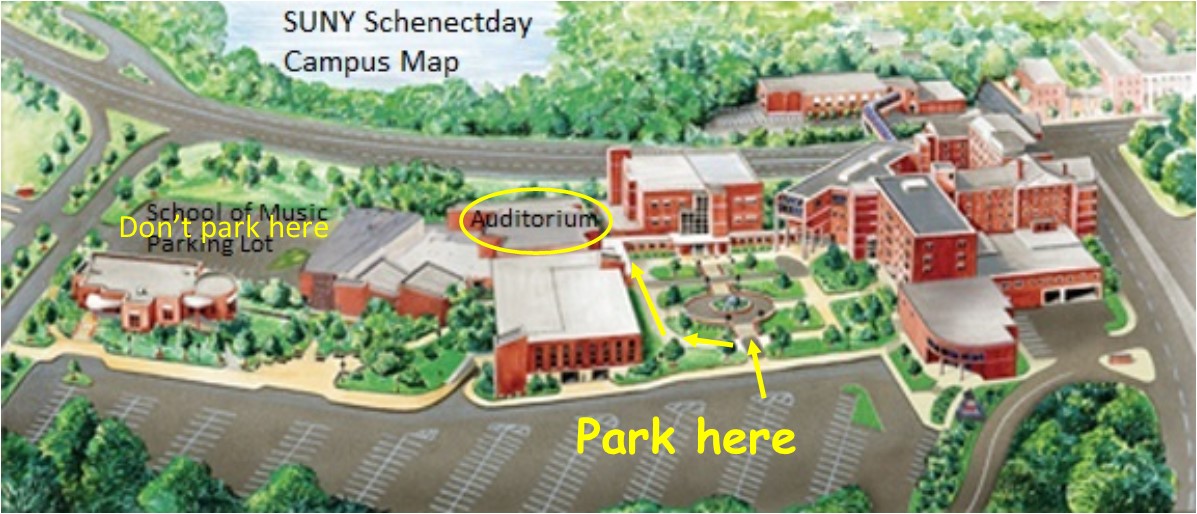 Park where indicated, then follow the arrows past the fountain to the auditorium.
SUNY Schenectady School of Music High School Jazz Competition results
A Place For Jazz congratulates the winners of the first ever SUNY Schenectady School of Music High School Jazz Competition!
First Place – Kiemon Noel, drums
Second Place – Nathan Yan, saxophone
Third Place – Bohdan Kinal, saxophone
The competition featured celebrity guest judges, jazz artists Geoffrey Keezer and Gillian Margot.
The grand prize that Kiemon won will be a recording session with the SUNY Schenectady jazz faculty in March 2023, and all three prize winners will be featured soloists with the SUNY Schenectady Jazz Ensemble at its spring concert on May 3, 2023. Dr. Christopher Brellochs, Dean of the School of Music, further advises that any finalist that attends the SUNY Schenectady School of Music will also receive a $1,000 scholarship. SUNY Schenectady is an accredited institutional member of the National Association of Schools of Music.
Congratulations to the winners, the SUNY Schenectady School of Music on its inaugural high school jazz competition, and to Ron and Kathy Cooke for underwriting the Music Innovation Fund at SUNY Schenectady!
What is A Place for Jazz?
A Place for Jazz isn't really a place; it's a 501(c)(3) non-profit, all-volunteer  organization dedicated to presenting the best in Jazz. It was founded by Butch Conn in 1987. Programs include concerts, public workshops, school-based clinics, a Jazz website and general support of Jazz and its musicians.